I'm a petlover from way back. I had my first tabby cat and her whole litter of kittens (yeah, my folks were slow on the spaying — NOT good) when I was four years old. These days, I pal around with my adorable pound puppy, Nico.
Of course, every day I have to come to work, and Nico stays at home to lounge on the couch (or in my bed) or hit the town with her dogwalker. I'd love if she could come to work with me, but building codes, you know. Lately, I've been thinking about adding a little bit of her mug to my office — beyond the photo that sits on my desk. That's where pet art comes in.
Tons of digital artists, photographers and painters have started offering their pet portrait services and turned pet art into quite a trend. I've done some scouring online to see what variations I could fine — and yes, some options can get pricey.
Here are some goodies I've found: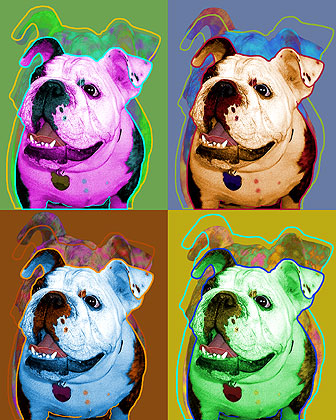 Artpaw.com takes a simple photo of your prized pooch or pussycat and transform it into Andy Warhol-reminiscent pieces. They also have oil paint-inspired versions, or they'll drop your furry friend in master classics (they're more funny than chic).
Popartpet.com adds loads of digital enhancements to your home photos — they can make them dotty and comics-like (a la Lichtenstein) or just up the blur for effect (like on the cutie above) and add to canvas.
Jencartetc is an Etsy artist that does freehand drawings from your photos. Better still, 20 percent of her proceeds go to the Humane Society of Utah.
Of course, there's always the budget option: get crafty and make a custom collage. Or if you're lucky like me, you might work with or know a computer design-inclined friend who can drop some fancy styling on a personal photo. There's something nice about a framed, original piece on a canvas, though.
If you'd rather not order online, visit your local framing shop — they sometimes have flyers or suggestions for local portrait artists.
So have you transformed your prized pet into a work of art? Tell me about it. I'm looking for ideas.