Woo hoo, winter is finally over! Today, March 20, is the vernal equinox, astronomy-speak for the official first day of spring. No more driving home from the office in the cold, bleak dark. No more feeling as cabin-fever crazy as the Travelocity gnome. Patio season is back! We can spend our evenings outside with potted palms and cool drinks. To celebrate the return of days that last past 8 p.m., let's look at some goodies to make our lengthened patio time more stylish.
We'll start with a classic Mexican talavera planter to give your deck or patio a touch of vivid south-of-the-border color. Sit by it with a cold Pacifico and imagine you're co-starring with Jessica Alba in the new Roberto Rodriguez film Machete about a Mexican Federale on a rampage in Texas.

I absolutely love, love, love these planters shaped liked human heads. They're like a Chia Head with class. I'm going to put one on my porch, plant it with sweet potato vine and watch the chartreuse vegetable tresses take over the front of the house, like a garden Rapunzel.
Pantone was late to the party naming turquoise color of the year for 2010. Turquoise has been hot for a millennium. Just ask the Spanish Moors who painted window frames and door jambs turquoise to keep evil spirits away. It's a custom followed to this day in the adobe homes of New Mexico. Since I don't have a house in New Mexico anymore and I couldn't enter Dream Home 2010 and win one, I'm looking for ways to put turquoise in my life. This mildew-resistant, Op-Art inspired outdoor rug by Koko Trends would be perfect for my deck. It's sleek, modern and if I spill my margarita on it, I can just hose it off. How perfect is that?
Everybody needs a three-foot long brass alligator sculpture in their yard. Put it next to the plant head so the neighbors start referring to your place as the "house with the goofy stuff in the yard."
Here's my ideal outdoor room: Frida Kahlo's spectacular courtyard and garden at Casa Azul (Blue House) in Mexico City. Here's another view of Kahlo's digs. This was Kahlo's parents' home. Once she inherited it, she liberated it of fuddy duddy mom-and-dadism by covering the place in a coat of brilliant blue paint and turning peacocks loose in the courtyard. Not a shabby chic fan, that Frida. Check out this video of the patio at Casa Azul: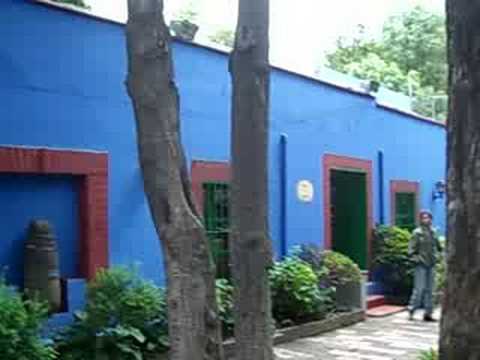 Wow. Makes me want to paint my Tennessee deck Casa Azul blue. But the HOA boardmembers would have a collective heart attack, so the closest I'm going to get to Kahlo color is these bright garden hoses. A primary palette of hoses in red, yellow and blue will put a little surrealism in my yard watering.