With the determination of an aging pop star, string art continues to reinvent itself over and over again. Design is always in flux so it's impressive when a technique evolves over time and continues to connect with what's going on in the home decor world. Originally a "decor craft" in the 60′s, string art has evolved from kitchy to trippy to modern right before our very eyes, if you consider old Domino magazines and Pinterest right before our very eyes. Here are a few of my favorite interpretations, and I'd love for you to weigh in on which ones you dig in the comments section.
Our own Marianne Canada made a rad monogram moment with her version on Weekday Crafternoon.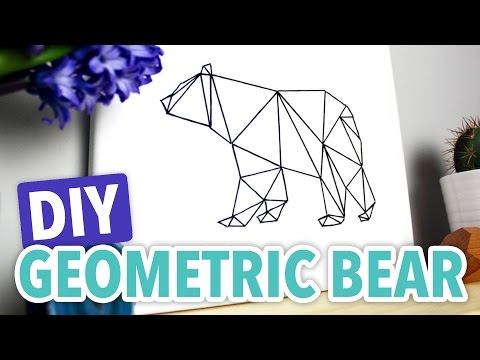 I brought string art to a geometric animal place with my Geo Bear for HGTV Handmade.
Texas-based artist Adrian Esparza unravels traditional Mexican blankets to create epic geometric installations.
Any string art post would be remiss without paying homage to the slew of large-scale typography installations around, my favorite being this one by Jen Loves Kev.
My fav is this geo install by Morgan Hungerford West on Panda Head Blog. While I was shooting the tutorial for my bear, I saw this on Morgan's blog, and created a similar version for my video back-drop. Morgan recreated a 3D version for White Hinterland's music video on WAMU's 88.5 Bandwith site. In my humble opinion, 3D takes the proverbial string art cake in this round up! 3D install photo by Maggie Famiglietti.
Brit & Co used their love of string art to create this little home for their air plants. It's so cute I want to punch myself in the face.

What do you think? Are these fresh and fun new interpretations, or should they go in the way of the scrunchy and be banished FOREVER. Yes, I've seen American Apparel try to bring scrunchies back but I cannot participate in that revival. Let us know in a comment what you think!