It seems like everyone I know covets one common thing — SLEEP. Dear, beautiful sleep, an illusive old friend that comes and goes and never quite stays long enough. A major influence on the frequency and length of our pal's nightly visits can be largely contingent on our bed. I shamefully admit that my husband and I were slumbering on my childhood double-mattress until very recently. No wonder I was an insomniac who watched countless episodes of Golden Girls until the wee hours of the morning on countless sleepless nights.
The investment in a new, high-quality QUEEN-SIZE mattress was a game-changer, to say the very least, yet the combination of our new mattress and my DIY upholstered headboard still begged for something else. With the bed being the focal point in the room, I wanted something to frame it and make it stand out while creating a romantic, relaxing aesthetic. I found the perfect solution for this in a DIY Fringe Canopy that took all of 30 minutes to install, yet changed the entire dynamic of the room.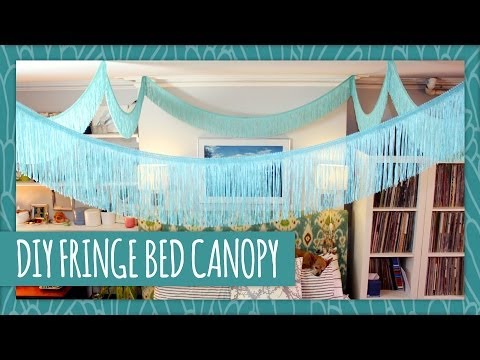 It got me curious to peer into other people's bedrooms and see how they were creating a bed that begs you to slumber peacefully. And, so as not to be creepy, I bring you a totally-appropriate yet intimate look at different sleeping situations that might inspire you and your bedroom.
Any post concerning creating an up-grade to your bed would be remiss if it did not include Justina Blakeney's incredibly romantic and dreamy handmade canopies. Customize with lanterns, ribbon, pom pom trim, or whatever your heart desires. Learn how to make one with Corinne Czar in this episode of Recreate.
In a stark contrast to those colorful, feminine spaces, Rue Magazine gives us a glimpse into Nate Berkus's masculine and modern bedroom. Those clean lines and dark palette would put my mind in a calm and restful state immediately.
Design Sponge recently featured Jon and Nina Hans's bohemian space which resembles more of a modern jungle than a downtown loft. Their draped white canopy is so dreamy, don't you want to curl up and take a nap in it?
And lastly, in a total departure from everything that I know to be true, there is, in fact, a Hamburger Bed. It exists, and that is really all there is to say about that.
Which of these beds is your favorite? Either way, I think we can all agree it's time to curl up for a nap.