BRIANA: This week's topic comes via Jessica: the resurgence of tie-dye. It's very summery and historically, we've been sweet on shibori, but what do you think of this trend? Is tie-dye decor groovy or does it make you think of a pint of Wavy Gravy?
KELLEY: I miss the old hippies who used to hang out around here, so I'm glad to see some hippie-dom coming back. I can do without the patchouli, tho.
DAVID HAYNES: Did someone say hippies?  As a veteran of more than just a few Grateful Dead shows, I will recuse myself from this thread. But before I do, if you want to witness extreme tie-dye, you might take a look at this: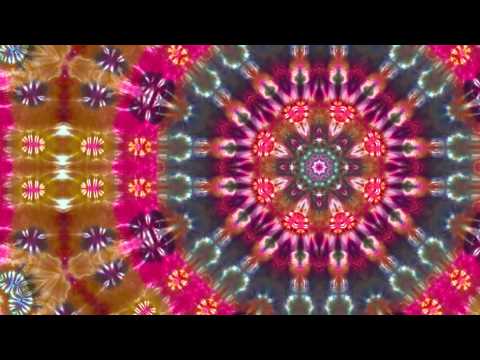 Headphones recommended. Things start to kick in at around the two-and-a-half minute mark.
TREVOR LANE: The traditional psychedelic neon-hued tie-dye reminds me of childhood vacation Bible school crafts. But this more modern take on the trend is great. I love monochrome and am obsessed with indigo. The more geometric shapes are incredibly beautiful, like the Crate and Barrel napkin in the second link. If I could do it… I would.
MEG ALLAN COLE: I support hand dyeing in all ways. I used to rock some pretty atrocious colored tie-dye in the 90′s, and those are moments we can leave in the past, but this new organic hand dye trend using muted mellow colors or bold jewel tones is just gorgeous. It gives off such a dreamy, tropical look and vibe that I am WAY into.
Also, as a hardcore DIYer, I think this is such a great project for beginners to get in and get their hands dirty (re: dyed). You really can't go wrong with hand dyeing, it's really something you just go with what you are feeling looks right, so it's a great way to dive into DIY. Dip-dyeing is my jam! SO much so that I just did a video on how to do it yourself on HGTV Handmade.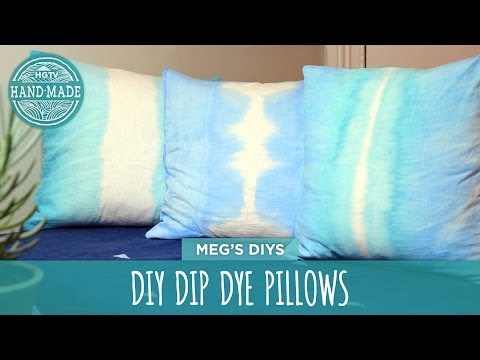 MARIANNE: I second Meg, this is a fun DIY and I am loving the modern take on this throwback. I did my own tie-dye project with Sharpies and I am loving these bright, modern pillows on my very own couch as we…type.
MEG: Yeeeees. Yes and yes to those pillows, Marianne. So rad and so pretty.
TREVOR: I change my mind. I love those.
MEG:  I just did a search of "tie-dye" on Pinterest, and here is what I found: COLOR determines everything with tie-dye. The technique is best when it shines through a muted color palette or is used with jewel-tones, like Marianne's gorgeous pillows. I saw some ill-chosen color palettes on some tie-dye projects over on the ole' Pinterest that were not nearly as lovely. So, it seems that the color choice is vital with this technique and trend. Which explains why my hunter green, bright purple, and bumblebee yellow tie dye shirt in the 6th grade left something to be desired. (Trevor, sorry if I conjured up any of those childhood vacation Bible school craft memories with that.)
LILI: I keep finding myself liking the new, more monochrome dyes and then changing my mind because, like Trevor, it brings back lots of pre-teen crafting memories. However, it's pretty darn cute for a teen's room, I have to say:
KRISTINE THOMASON: I totally agree with what's been said about DIY tie-dye, it's always so much fun! It feels like you're creating custom fabric, but you never really know how it'll turn out. (Fingers crossed it doesn't look like a Sunday school craft though.) Another variation on this trend I'd personally like to try is "reverse tie-dye." Instead of dye on white fabric, you use bleach on colored fabric, like this tapestry on Etsy:
TREVOR: I think the reverse tie dye is a really good idea — I'd love to try it!
LIZ: I am all about some tie-dye and shibori, but Meg, you're right — more colors are not your friend here. Monochromatic or tonal is the way to go if you're DIY-ing. Oh, hello again, shibori sofa…
Also, yes to this:
MEG
: THAT COUCH.
KRISTINE: I have those bowls!
JESSICA: Oh man, I love those bowls. And the couch. And everything, I'm all for it. Someone come tie-dye my house, please. Except for the "tie-dye" in David's video, I think that might be a little too far. Also I think I'm going to need a new glasses prescription after attempting to watch that visualizer.
TREVOR: I need the bowls. I need the sofa. And I actually love that PBteen duvet.
JESSICA: Trevor and I just had a twinsies moment.
LILI: I feel like we've made Trevor a convert.
BRIANA: Defend the Trend: Changing Hearts and Minds Since 2012©
LIZ: Trevor, welcome to the, um, bright side. There is cake.
MARIANNE: Ooh, did someone say cake?
JESSICA: This HGTVGardens transplant (HA) requests all cake samples to be interofficed for…testing, tie-dye or not.
TREVOR: I can get behind anything with cake.
We've debated about tie-dye decor, now tell us what YOU think: