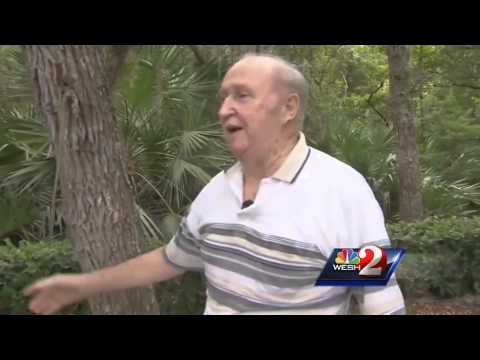 Who doesn't love a good snooze in the shade? This bear in Daytona Beach, Florida certainly did (much to the homeowner's surprise). But hey, it's summer! Sounds like this bear has the right idea!
Here are some more outdoor sleep spots, daybeds and backyard hammocks where we think this bear (and you) would enjoy getting some shut-eye.
This gorgeous canopy bed will put Hammock Bear right in the thick of his natural home while still offering luxuries like soft flannel sheets. The whimsical curtains block out the sun and give him some privacy from those pesky humans!
Although this bear seems to enjoy human amenities, he's still a bear, so we think he'd enjoy this cool hammock suspended high in the tree tops; it combines his natural tree-climbing instincts with a comfy net for napping.
When the rest of the world is starting to feel un-bear-able, this suspended hammock-daybed hybrid is the perfect place to escape. Equipped with a serene lily pond on one side and dining table on the other, what more could you need for a relaxing afternoon?
How can you bring a bit of nature to an urban setting? With this unique grass-covered daybed! If Hammock Bear ever found himself in a big city, we think he'd appreciate this clever design…and then probably take a nap.

When our bear wants a break from the trees, here's an awesome alternative. This framed hammock can be placed anywhere, which is a great option if your backyard doesn't have ideal hammock-bearing trees. Plus, its sleek design is a stylish addition to any yard!
If this bear ever wants some company during his nap sessions, these colorful twin hammocks will do the trick. The classic woven design is ideal for both comforting and keeping the body cool on hot summer days.
After lounging on this grass and AstroTurf covered couch, a basic nap on the lawn might not cut it ever again! This creative seating area is designed to comfortably mold to a person (or bear's) body.
If Hammock Bear is looking for a change of scenery, this hanging daybed by the sea is a great choice. The lovely teak bed is sheltered by a grass tent to keep out the sun's rays, leaving room for nothing but rest and relaxation.
Okay, so this one might be a bit difficult for a bear to access, but we couldn't resist including this amazing indoor hammock that Lili posted about in Daily Delight. (For the sake of anyone who owns this hammock, let's hope the bear isn't clever enough to find it!)

Of course, if he wants to stick with the classic design he's clearly fond of, this simple white hammock is the perfect place for Hammock Bear to sleep in style.