Even for those of us who make crafts for a living, furnishing an entire party with handmade decor can be a bit of a challenge. Meanwhile, cute store-bought decorations tend to be pricey. The compromise? This summer, simplify your party decor (while still adding a handmade touch) with one simple watercolor technique and your printer.
Watch this week's video to see how to turn one design into all of these (adorable!) printable party decorations: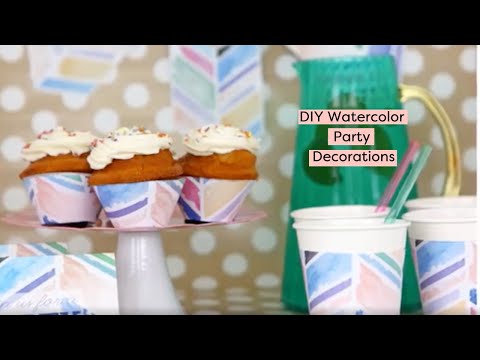 This herringbone design is a fun twist on the trendy pattern, but the sky's the limit for your template: Try polka dots, stripes, zig zags or an abstract, drippy design. The good news for you? Even if you don't have time to create your own custom pattern, you still can download our ready-made party supply templates right here…for free!
Party Invitations
Get two styles of invitations, plus a watercolor thank you note. Print the invitations onto cardstock, cut with a paper cutter, then fold and fill out your party details. Download the free printable invitation template now >>
Cupcake Wrappers
To keep your cupcake wrappers looking fresh for the entire party, print these onto sheets of printer-sized freezer paper. Cut out the designs and join the ends with a strip of clear tape. Download the free printable cupcake wrappers >>
Paper Cup Sleeves
Dress up plain white paper cups with watercolor-embellished paper sleeves. Print the template onto white printer paper, then cut out the design and wrap around a basic white party cup. Connect the ends of the sleeve with clear tape. Download the free printable cup sleeve template >>
Watercolor Party Banner
Cut out the arrow shapes of the design, then use hot glue to affix to a color-coordinated ribbon. You'll need one sheet of the free printable watercolor design for every two banner pieces.
Have another idea for this herringbone design? Download the original watercolor artwork here.