Did you see my coworkers' nightstands yesterday? Talk about eye candy! I love getting a peek into people's homes. And it was PERFECT timing for me, because it just so happens that my video this week is all about my own nightstand makeover.
This week on the HGTV Handmade YouTube channel (you ARE subscribed, right?), we are all participating in a thrift store challenge. Adding to the challenge was the ice storm that hit our area—I've been stuck on our hill for over a week! Luckily I had the perfect entry for our challenge already in my garage: A beat-up piece of mid-century office furniture that I planned to spruce up with chalk paint and gold leaf. Watch the video to see how I did it.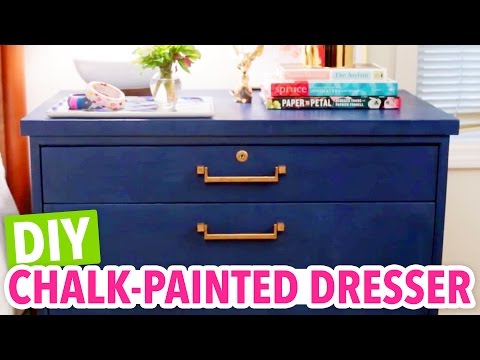 I've used it for a couple of projects, but I'm still just as smitten with chalk paint! Not having to sand or prime is such a time saver, and the finish with a couple of coats of wax is lovely. I also can't get over the difference a little Rub & Buff made on the handles and legs! It's like a brand new piece, and it makes the perfect nightstand. I added a Jonathan Adler tray to corral my must-haves, a vase with the first Lenten Roses of spring, my favorite books and a delicious smelling candle. Perfect.
What thrift store scores have you made recently? Tune in to HGTV Handmade every day this week to see what my partners in crime make with their thrift store finds.