Sure, spring is still new, but another season is fast approaching: Wedding season! Whether you're attending a friend's ceremony or are busy planning your own big day (like Kayla and me!,) spring and summer are the most popular times to tie the knot. (If you're as excited as we are, check out our new Wedding Survival Guide series!)
And the hottest color to be surrounded by while gettin' hitched? You guessed it: cool mint green. From retro glassware to bridesmaid dresses to delicate French macarons, this color is everywhere. So, we're naming April's Color of the Month after the original mint green wedding fixture: Those melt-away wedding mints.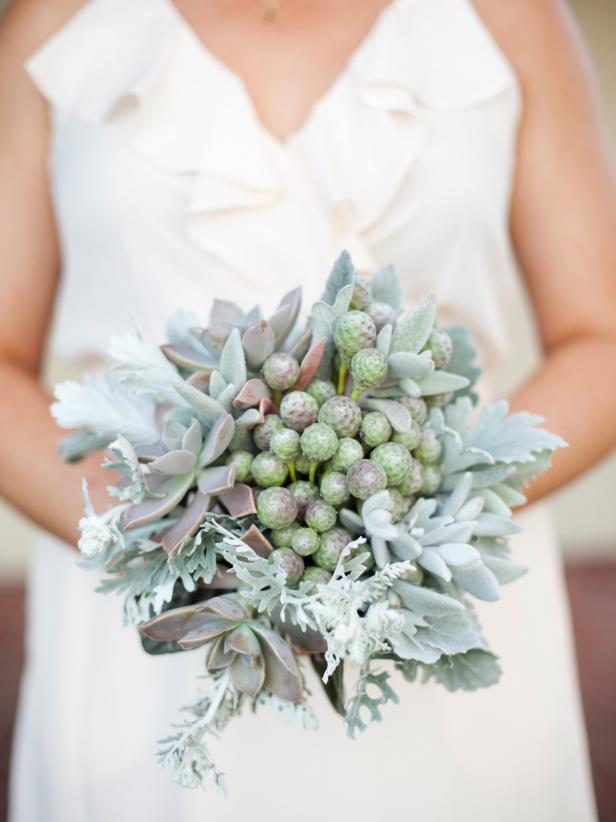 We've featured mint before, but Wedding Mint is softer with gray undertones — think of the soft green of succulent petals or a vintage jadeite platter. Isn't this succulent bouquet gorgeous? (Confession: It's already on my wedding Pinterest board.)
Okay, let's say you don't have weddings on the brain. This color is bright and cheerful, yet muted enough to cover all four walls. Here, designer Mark Williams painted this entire eat-in kitchen — even the trim — with a minty hue.