If you're a regular reader, you know we get pretty, ahem, heated about our color of the month pitches. (We aren't above wearing our colors, offering up color-coded sweets or packing our Pinterest boards with puppies and cocktails.) So for January's color pick, something amazing happened: We agreed. We all loved two colors: Merlot and Blue Paisley. That's why we're asking you to cast a vote to help us decide.
OPTION 1: BLUE PAISLEY
Briana pitched this bohemian blue, which is the Pittsburgh Paints 2015 Color of the Year. We love this cool, saturated color on all four walls, paired with color-wheel opposites like orange or in monochromatic spaces, like this blue-on-blue bedroom:
The name nods to paisley patterns and a cool, relaxed vibe we love. See Briana's full inspiration board >>
OPTION 2: MERLOT
Jessica and Mallory teamed up to give us this lovely wine-hued pitch. A play on Pantone's 2015 pick, Marsala, we prefer the saturated, purple undertones of this shade to the reddish-orange Color of the Year. Just like a good glass of wine, this color is rich and juicy splashed across a velvet sofa, paired with cool blues or even on the ceiling: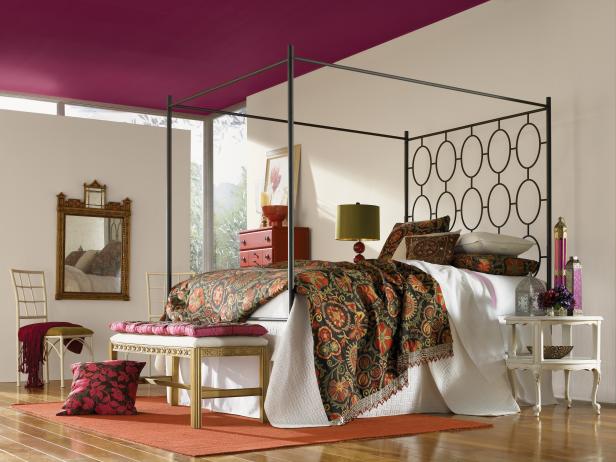 It's not quite Marsala, and not quite plum. See Mallory and Jessica's whole inspiration board here >>
It's a battle of red vs. blue:
Now it's time to cast a vote! Which color do you love for January 2015? We'll do a final vote tally at 5 p.m. on Friday, January 16.