Do you have a glass problem? Maybe every time you finish a jar of jam or honey, you just can't make yourself toss the empty. Perhaps you, like me, see the beauty in a Franks Red Hot bottle (those curves!). If so, do I have the project for you. These paint-and-gold-leaf-adorned vases are so beautiful you'd never know they were rescued from the recycle bin. Watch the video to learn how to make your own: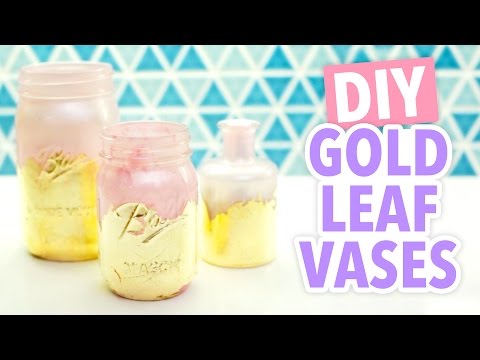 If you're planning to tackle this project, let me give you a few tips:
1. Make sure to give your glass jar a good cleaning with rubbing alcohol, and let it dry completely before starting.
2. Mixing non-acetone nail polish remover with acrylic multi-surface paint gives it a pourable consistency, and if you let it dry overnight as advised, it's perfectly safe to bake in your oven.
3. Oven-baking will cure your paint in 30 minutes, making it safe to hold water without ruining your paint job. If you'd prefer to skip the oven, let the vase cure for 21 days before using.
4. Gold leaf will last longer with a coat of sealant on top, but either way this is a handwash-only project.
Filled with flowers, I think you'll agree, this is the perfect last minute DIY gift for Mother's Day. I'm particularly taken with the way the gold leaf dresses up a mason jar, wouldn't you agree?