There is something about the mellow, organic vibe dip-dying creates that is so lovely and oh-so-summer, to me. A deceivingly easy DIY, considering how intimidating it looks. I've tried my stained hands at this many times before (Re: wear gloves), and shared the in-progress process and the results on my blog, Nest. Liz touched upon this trend a few weeks ago in her Color of the Month post, so clearly we are all digging the dye right now.
This week I felt the need to share just how simple it can be to create the look over on HGTV Handmade.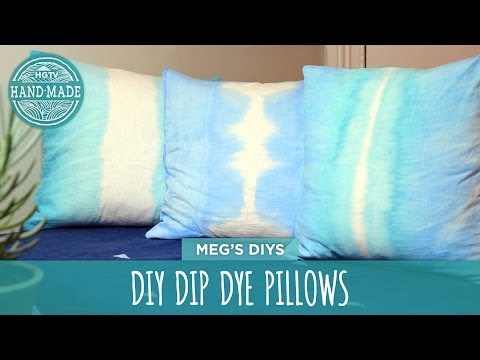 Please DO try this at home. The result is really quite dreamy and I can see this being a great addition to any couch, bedroom, or even a pop of custom color in a new dorm room.
Inspired by this lush and lovely dip-dye duvet set at Anthropologie, I took the project into a home textile place with a set of dip-dye pillows in a palette of blues and purple for my HGTV Handmade video.