Can you believe that the new year is just one day away? Start 2015 on a high note by spending day one with all your HGTV favorites. You bring the mimosas, we'll bring a day full of premieres and a live Twitter party featuring Jonathan, Drew and lots more stars. Here are 6 reasons to spend the day with us this January 1.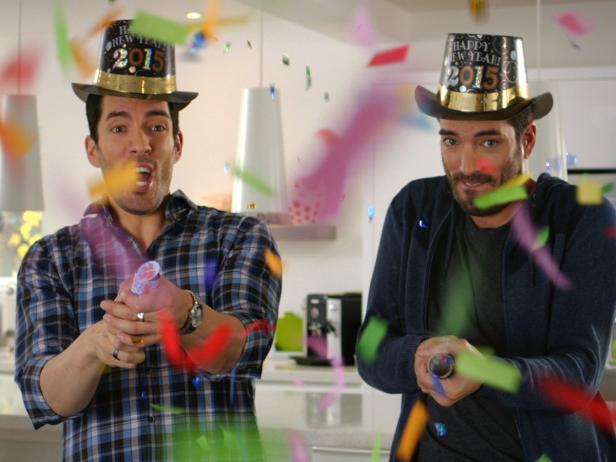 1: Live Coverage of the Rose Parade
The fun starts at 11 am/10c with the Rose Parade, live and commercial free, hosted by Jonathan and Drew Scott and Josh Temple.
2: Escape to Paradise
It's a little cold and gray outside, right? HGTV has the cure — all-new episodes of your favorite getaway shows, from Beachfront Bargain Hunt to Half-Price Paradise to Caribbean Life. Check out the TV Schedule for a full rundown.
3: Have a (Twitter) Party With Your Favorite Stars
From Chip and Joanna Gaines to HGTV's Cousins Anthony and John to Flip or Flop's Tarek and Christina, all your favorite hosts will be tweeting along with the day's premieres. Join in the fun by following and using #HGTVNewYear on Twitter. See the full guest list here.
4: See Your Tweets on HGTV!
Remember that #HGTVNewYear hashtag? Use it while you watch and you could see your tweet on the air. We'll be sharing favorites from HGTV fans all day long.
5: See Exclusive Photos on Instagram
Follow HGTV on Instagram to see exclusive behind-the-scenes photos from the Rose Parade, HGTV stars' New Year's Day traditions and more.
6: Step Inside HGTV Dream Home 2015
After a day full of dreamy premieres, it all culminates with the HGTV Dream Home 2015 tour. Tour every inch of the Cape Cod-style home on Martha's Vineyard, Massachusetts with host Matt Muenster, then visit HGTV.com to take a photo tour and enter for a chance to win it.
Get more information at HGTV.com/New Year. See you there!