When it comes to fall pumpkin decor, do you favor real or fake? I love the look of a real-life decorative gourd for an outdoor display, but if I'm putting in serious crafting time, I'm all about the foam pumpkin. Why? I can decorate once and have a one-of-a-kind pumpkin for years to come.
This week, I present three faux pumpkin crafts that pull double duty. These look as good on your front porch come trick-or-treating time as they do as part of your Thanksgiving tablescape. To get started, you'll need two things: A foam pumpkin and a big box of dressmakers' pins. (Glitter optional, but highly recommended.) Take a look at this simple-yet-stunning technique: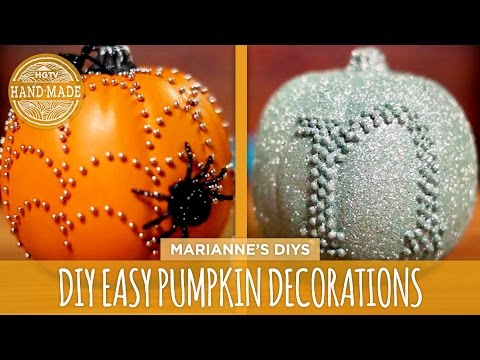 Check out all three finished versions:
Are you a real or faux pumpkin fan? Tell me in the comments below. As always, if you've missed any past episodes of HGTV Crafternoon you can find them all right here.