When we stepped into the space adjacent to this home's kitchen, we knew we had some work to do. The room served as an informal dining area, but it had lackluster style and was poorly defined. The solution? Create a built-in dining banquette reminiscent of a classic diner. Here's how to recreate the look in your home.
Pick a Theme. The banquette's fun diner theme carries through to the accessories. We grouped bright vintage clocks on the wall to create an unexpected art piece, and filled the table with simple vintage-inspired dishware. The sleek stainless steel chandelier adds a modern touch that keeps the theme from feeling too kitschy.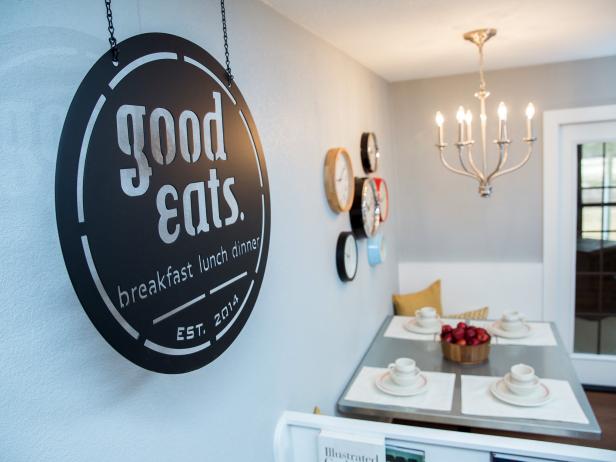 Add Personality. This is a home, not a house — show off your family's personality with colorful accents and unique artwork. This metal "Good Eats" sign above the breakfast nook is one of two that we had had custom made for the Silva's new home.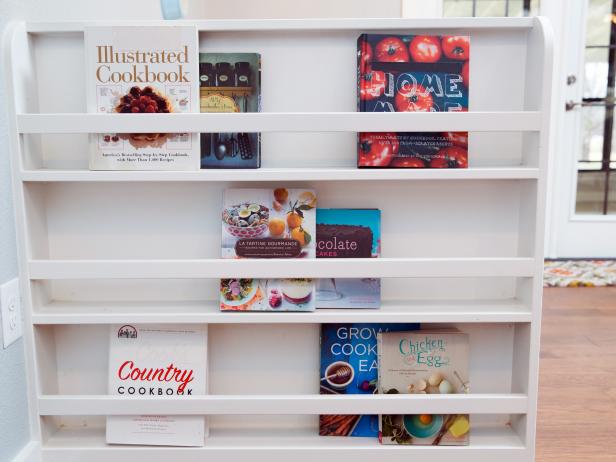 Don't Forget the Storage! Leave no wall without a function. Here, the back of the dinette finds a purpose as storage for the family's favorite cookbooks.
See how we totally transformed the rest of this home in the photo gallery below: