Guest post by Melissa Andersen, CousinsTV
John and Anthony of HGTV's Cousins Undercover know how lucky they are to get to do what they love every day and help incredible people in the process. And they also know none of that would be possible without the support of their loyal fans. It is the ongoing engagement they have with each of you and your constant feedback that keeps them striving to be better and do better, always.  They can't always give back, but they can get back in touch with the people who got them where they are today.
Because of your devotion, it has always been important to Anthony and John to make sure that their connection with you is a two-way street and with the rise of social media, these Cousins are always on call.
Want to talk with Anthony and John? Here's how:
Facebook: This is where the majority of our fan interaction happens. Though we can't always respond to every comment or post, we read and take each one to heart.
Why We Love It: Facebook is the single best way to get honest feedback in a snap. Your feedback about the show, the designs, content we share, and the things Anthony and John have going on in their lives keeps us on our toes and lets us instantly know how we're doing.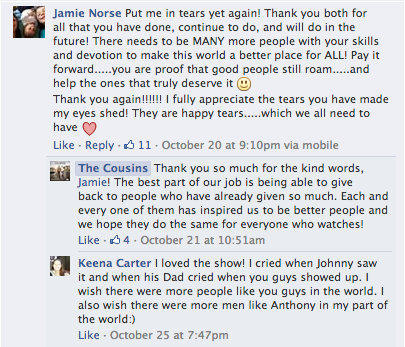 What's Next: We're constantly posting new content on Facebook, whether it's design inspiration, polls, or show goodies. We also have our LAST live Facebook Q&A this Sunday after the East Coast showing of the newest episode of Cousins Undercover (show airs 8pm ET, Q&A goes live immediately after at 9pm).
Twitter: What's more instant than a tweet? Quick, concise, and real, those 140 characters push us to get to the heart of the matter.
Why We Love It: Twitter is the best place to ask us questions and get a direct response. Ask about the show, what's going on in the Cousins' day-to-day, and especially your design questions (use #DesignQ).
What's Next: What we enjoy most on Twitter are the real-time conversations with our fans… especially during our live-tweet parties during the show. Join us for the next one this Sunday from 8-9pm ET @CousinsTV, @ColaneriJohn, and @CarrinoAnthony (don't forget to use #CousinsUndercover).
Pinterest: Design people are visual people, so Pinterest really speaks our language. Follow us for design photos (and even some tips!) from all of our shows.
Why We Love It: Pinterest is the best gauge for which of the Cousins' designs you love most. See something on one of our boards that you find inspiring, inventive, or just plain beautiful? Show us by repining it!
What's Next: Check back every Thursday for new boards of photos from that week's episode… and keep an eye out for fun surprises in the coming months.
Now that you know where to find them, go online and get social with the Cousins.  John and Anthony are always on call and waiting to hear from you!
……………………………….
About the author…