If you're like me, you're wondering what happened to 2013.  It seems Labor Day wasn't that long ago, yet Thanksgiving, Hanukkah, Christmas…they're all upon us once again.
I'm not complaining…I'm just as caught up in the pre-holiday excitement as everyone else.  Most of my friends on social media are already posting and pinning their favorite recipes and decorating ideas.
And the folks here at HGTV have to be the most excited of all.  Our studio workshops are already sparkling with remnants of Christmas crafts, glitter, tinsel, and garland.   Of course that's probably no secret if you follow us on Pinterest.
To add to the excitement, we're celebrating the launch of HGTV's second annual Holiday House, our own HGTV.com home that we've staged to the tee with our favorite traditional décor and brand new holiday designs.
And that leads me to the really fun part of this year's holiday activities.  You're invited to join us for a virtual Pin Party on Pinterest with special guest designer, Casey Noble.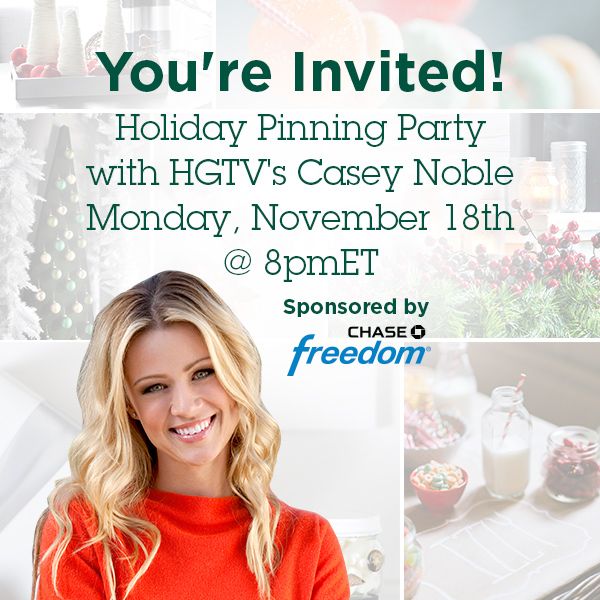 This Monday starting 8pmEST, we'll be pinning our favorite holiday trends of the year, decorating how-to's you'll want to try, and simple handmade gift ideas…everything you need to make the season bright.  Plus, Casey will be sharing her special designs exclusive to this year's HGTV Holiday House.
Joining the party is easy.  Just follow these four easy steps:
1.  Log on to Pinterest this Monday starting 8pmEST
2.  Join the party board
3.  Follow hashtag #HolidayHouse
4.  Pour your favorite holiday beverage and help us spread some holiday cheer
(P.S.  Remember to refresh your browser often during the party to see the latest pins).
See you there!