Are you watching Ellen's Design Challenge? We're going behind the scenes of the show's fifth episode with carpenter Chip Wade to find out more about what it feels like to travel blindfolded, plus the designs from episode 5. 
I Heart HGTV: What was going through the group's mind when you were blindfolded for this challenge? Did anyone guess where you were really going?

Chip Wade: I guess I have not been blindfolded many times as an adult, because it felt SO strange to be in a moving van and feel no sense of where we were going. The only saving grace was the hilarious banter between all six of us as we traveled to an undisclosed location. We had actually hoped we were being taken to do something fun and relaxing, like ride some go carts to take some of the pressure off, but we were wrong, the next challenge awaited: The salvage yard.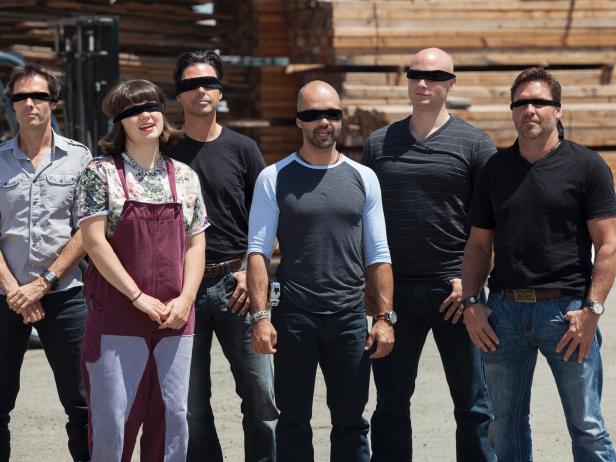 How did everyone approach the salvaged material challenge differently?  What's your favorite way to use salvaged materials?
Everyone was somewhat frantic in this challenge.  In reality, we had only about 1.5 hours to look around this expansive location, which was more reminiscent of an '80s office building graveyard with more garbage cabinets and random useless materials than a treasure trove. However, this exercise was about making something out of nothing, so it was perfect.
All three teams were scrambling to find anything of actual quality to start with. Without a specific design in mind, all three teams were forced to pile anything that might be a possible decent raw material, being forced to figure out how to use it later. Katie and Karl lucked out and found tons of acrylic to keep with her eclectic style. They coupled this acrylic with a bundle of multicolor 14gauge wire for the seat upholstery. Gaspar and Brooks went WAY overboard grabbing anything and everything…to a ridiculous extent. We actually had to ask them to share some of the stuff they selected, as they were wanting to walk away with half the warehouse!! Sometimes having too much is a burden as well.
Tim and I were severely struggling to find anything exciting in the least. With about 20 min left, I found a large round object that had no real redeemable qualities except a vague reflection of an old fan. We liked that there was a real steel housing and that the stature of the fan itself was imposing.
In my opinion, salvaged materials are best utilized when they are not 100 percent transformed from their original state.  I think the key is maintaining the story and figure of the original materials while giving them new practical purpose.
Explain a little about the construction of your team's piece, the rustic fan bookcase.
Our fan console was constructed out of only 2 materials: the fan and some douglas fir timbers.  We started by removing the 1-inch–thick coating of old paint and dust from the housing and blades. This fan was apparently used as an exhaust fan where they were painting… a lot. The greatest part about the fan is the somewhat realistic wear it had, without hurting its structural integrity. This ended up being the perfect platform to start from, because you could build off of it.
After removing all the old layers of paint and debris, we noticed that the fan blades themselves were cast aluminum!  This was so lucky, as the fine luster of the cleaned up blades fit perfectly into the desired aesthetic. We plasma-cut out slots to fit the wood timbers through, then joined another timber to the previous to lock them in place and give the entire piece the feeling that the wood had been pressed through the steel, or somehow molded together.
We created a new propeller mount with a more finished disposition, as the original mound blocked too much visual space.  A fun detail about the inside of the fan is the way we finished it. The fan originally had a green paint on it.  We spread some acetone with a sponge over the entire thing to bring down the high contrast spots and normalize the color. We then sprayed the entire inside with flat black paint and sanded it radially with sandpaper wrapped around a long wooden dowel to give it the appearance that it had been scored and scraped by a spinning object.  The wood was coated with a tinted Briwax to give it its final luster, followed by a satin lacquer on the fan body itself.
Can you tell us anything about the construction of Katie and Karl's design?
The acrylic desk was made by creating a mortised slot halfway through the legs to capture and support the horizontal planes without the need for excessive fasteners, which would have ruined the look. The 1 1/4″ acrylic is so finicky to work with, since it gets so hot and can crack when machined.  The chair, also from acrylic, was drilled with holes to accommodate the electrical wire mesh. The weaving process of stringing thick gauge wire tightly was beyond challenging.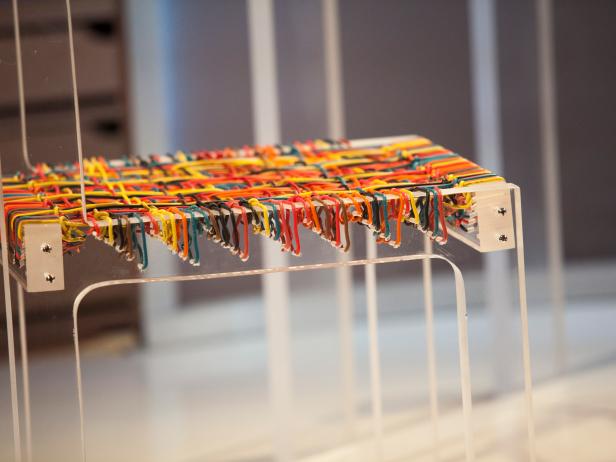 Tell us about a funny or behind-the-scenes moment from episode 5 we didn't see on TV.
There was a lot of bickering between teams and team members at this salvage yard. Everyone was so confused about what they were actually going to use. I think Katie and Karl were the only ones at all confident with what they found initially. Tim and I actually spent the most time outside with some of the huge metal salvage scraps. We wanted so badly to get this enormous electric motor housing to make a giant chair out of, but it didn't work out. The thing weighed a couple of thousand pounds…at least. At the end of all these challenges, all members of every team were willing to help the others get their finished pieces ready to show the judges, great team effort.
See more photos of the episode 5 designs here:



Tune in tonight at 9/8c to see the season finale of Ellen's Design Challenge.  Join Chip, Ellen, HGTV and more fans of the show on Twitter with #EllenDesignonHGTV.