Dark. Dank. Scary. Haunted? These are just some of the words I use to describe my childhood laundry room. Less of a room, actually, and more of a corner in my unfinished basement. Most of the people I knew had a basement laundry room— taking up real estate on the main floors seemed like a waste for such a utilitarian space.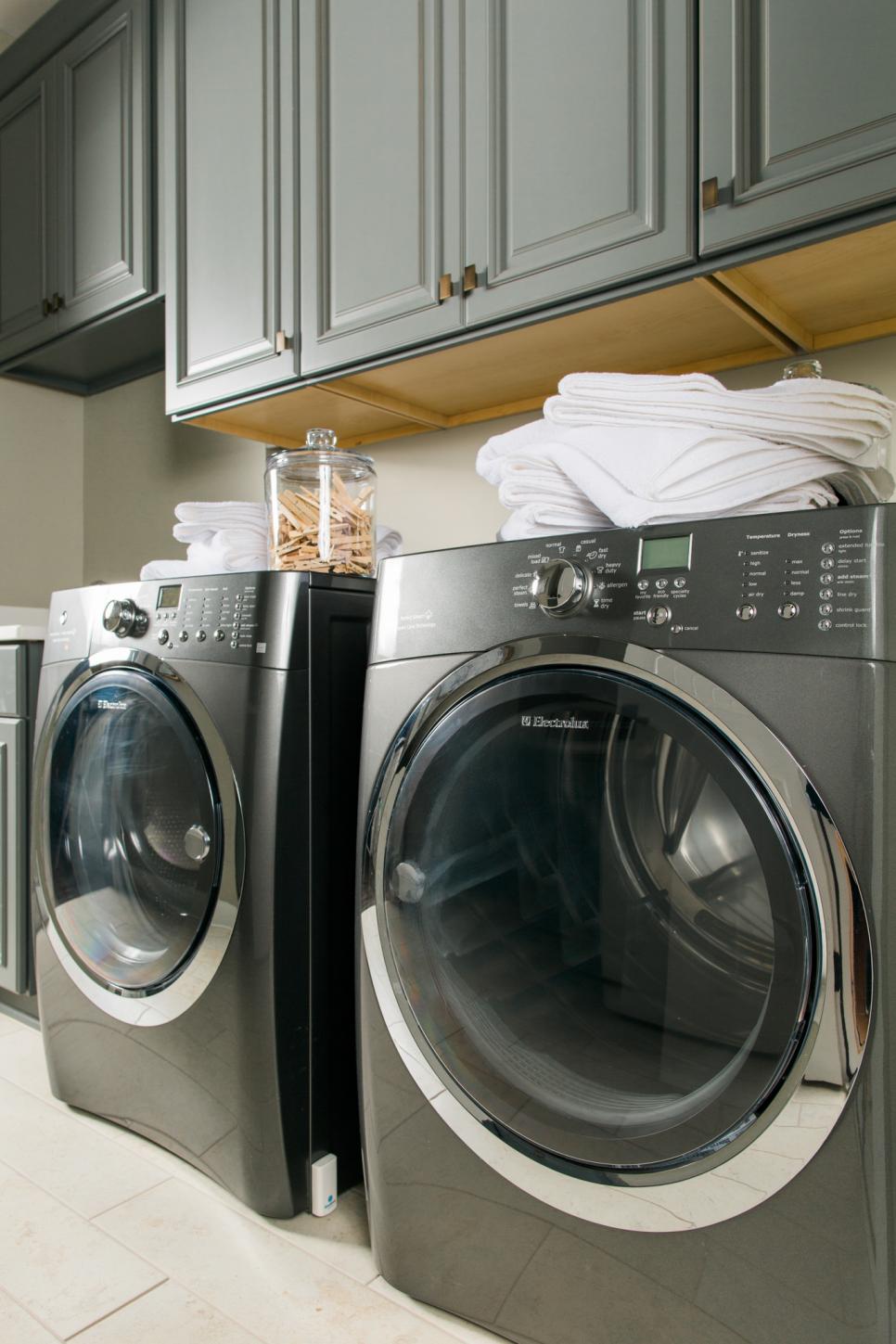 Lately that home philosophy is being reconsidered, and for good reason. As a busy mom, the laundry is something I interact with on nearly a daily basis— loading, unloading, folding, sorting, or emergency stain removal. There always seems to be a reason to head to the laundry room to take care of something. Hiking up and down two floors of stairs on a regular basis can get old.
With appliances being better designed and with prettier finishes, and with innovative cabinetry that can hide things like ironing boards and drying racks, it's no longer a room that must be banished to the recesses of the house.
It's no surprise, then, that the laundry room is moving up in the world, and I've seen first-hand how this trend has changed: In my first apartment, the laundry was in an unfinished part of the crawl-space beneath my duplex. Let's just say if you dropped your skivvies on the floor you had to toss them right back into the washing machine. When we bought our first home it was in the garage, and in our second home it graduated to a space off the kitchen.
In our latest home, the laundry room made it upstairs— and hoo boy, did that change my life! Laundry day requires a lot less trekking through the house, and I can fold and iron in a light-filled, warm, and lovely room.
HGTV Smart Home 2016 takes this idea to the next level by placing a laundry space on the second floor and  just steps from the master closet!

I must admit, I've never seen a laundry room close to the master closet before, but it makes so much sense. Your clean clothes can come right out of the dryer and go straight on to hangers and you're steps from the bed when it's time to make it with clean sheets. Here's a look at the set-up, along with another cool piece of technology that makes cleaning your clothes easy and fun to do at home.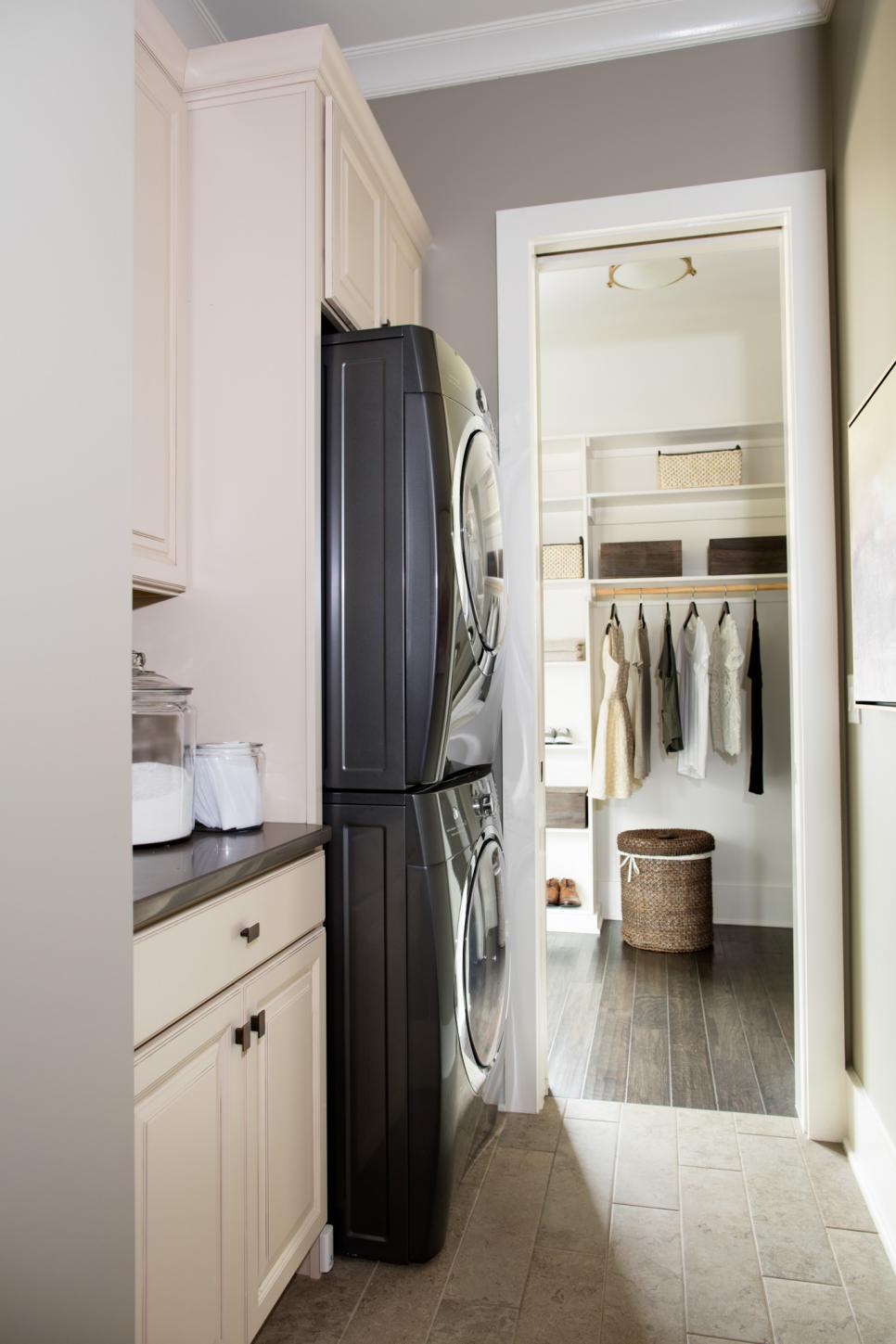 Here's a view of the laundry area, with the master closet in view. The floor is an attractive tile which compliments the hardwood nicely while being water-friendly and splash-proof. The washer and dryer are stacked, which is a great space saver, and a nearby countertop is a perfect place to fold your darks or whites. The washer and dryer have steam cycles which make easy work of sanitizing or steam pressing clothes in a hurry.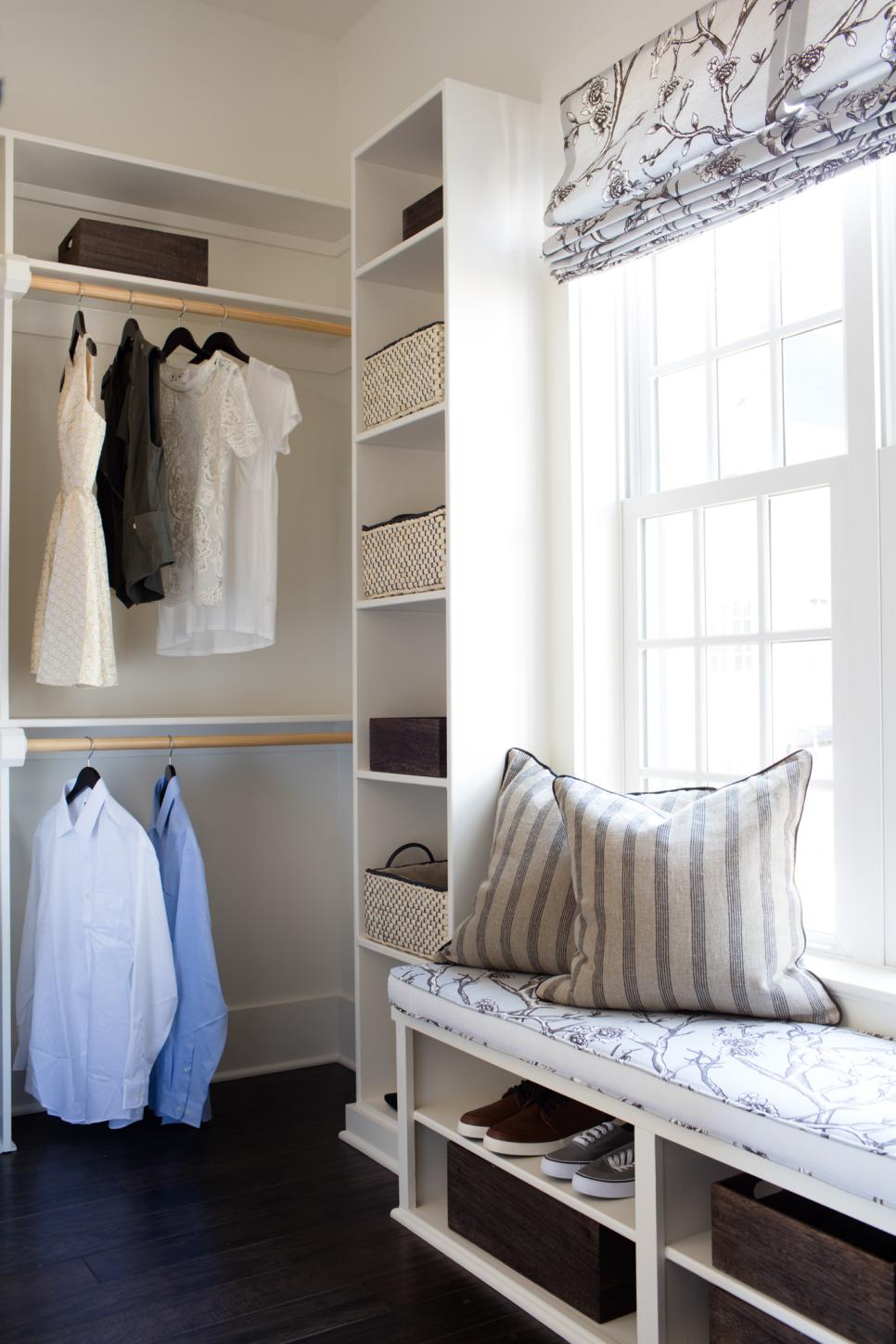 Laundry is tough work! Luckily there's a bright and comfy bench in the closet to rest on or to fold on. Those towels won't fold themselves!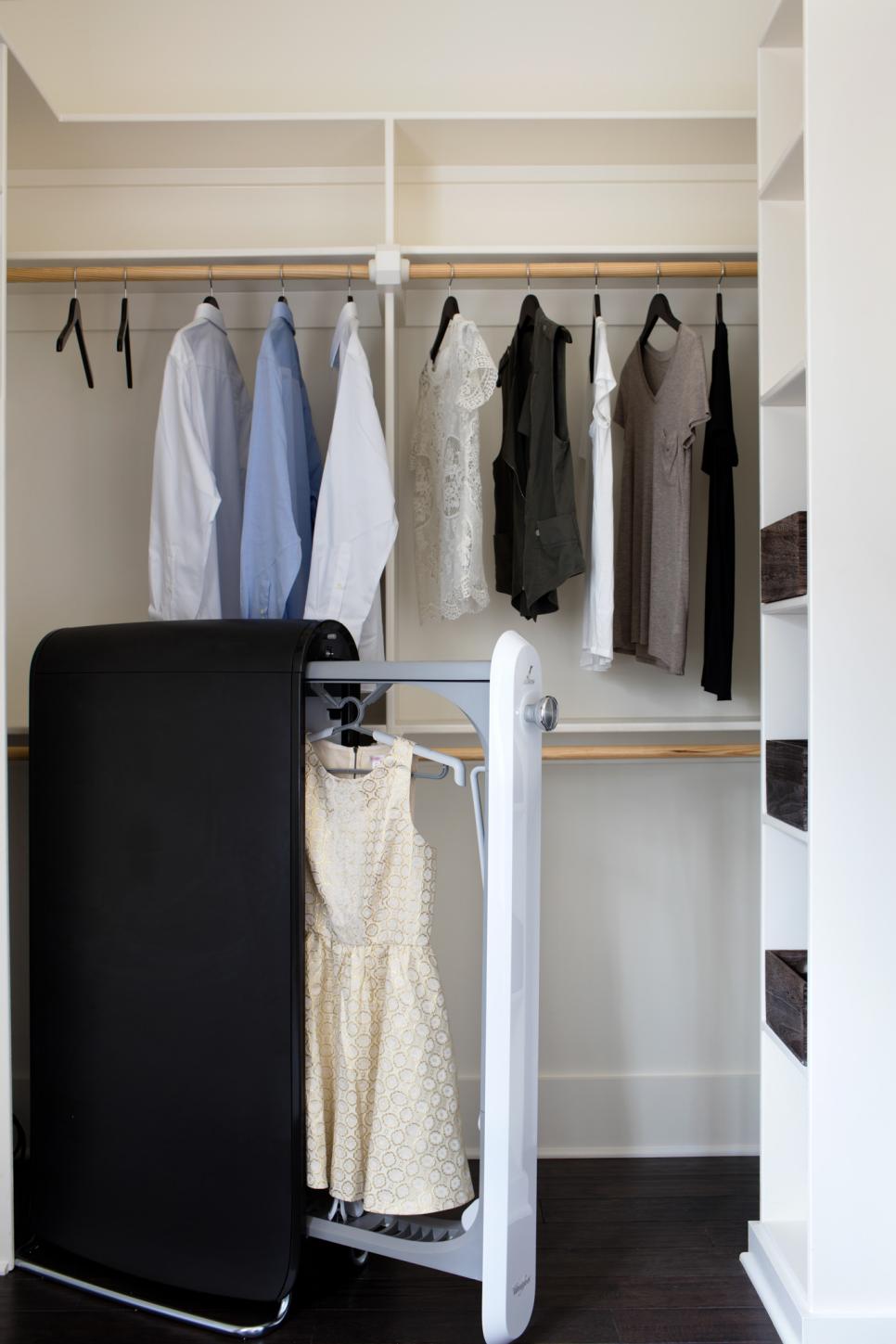 This clothing care system will cut your dry cleaning bill considerably. It's a Whirlpool Swash, and it will de-wrinkle, de-odorize, and shrink stretched-out clothes in 10 minutes. It can handle many delicate, dry clean-only items as well, which makes it a money saver as well as a clothing saver. It's gentler on clothes than the dry cleaner is. Best of all, you can tuck it anywhere you have an outlet— it doesn't need a water hookup like your washing machine does— so it's a convenient addition to the master closet.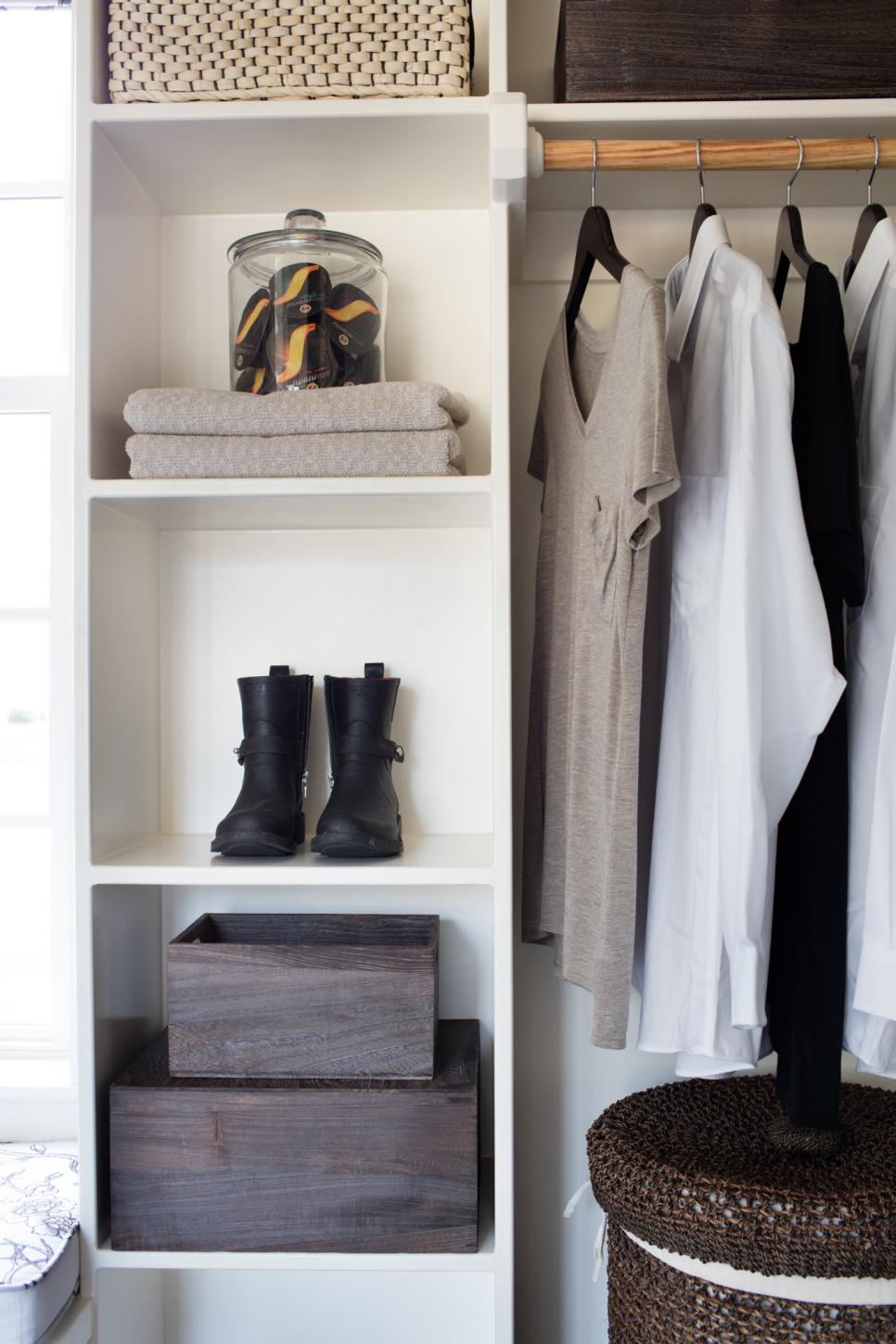 For t-shirts and PJs, a hamper stands by in the closet, ready to catch the dirties before they're taking to the washing machine, steps away.
This master closet has many clothing care ideas to inspire. What's your favorite element?